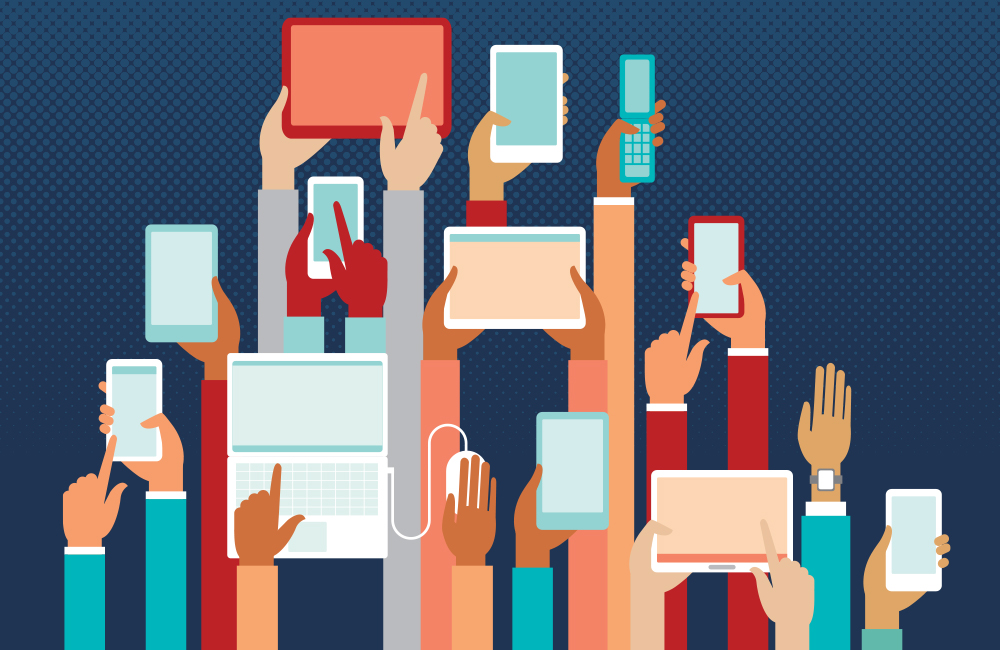 Taking Stock of Pandemic Realities: Digital First is Here to Stay
Pre-COVID-19, most industries were already moving away from brick-and-mortar–based operations and toward widespread adoption of digital technologies in manufacturing, sales and delivery of services and goods. There is ample evidence that the arrival of COVID-19 greatly accelerated the timetable and growing evidence that these new approaches and technologies will become permanent, as both supply chain and consumer demand pressures have changed in enduring ways. 
Research indicates that 75 percent of people using digital channels for the first time intend to continue using them in the post-COVID future. Furthermore, businesses are changing how they work and produce goods. Schools have had to offer virtual education, healthcare providers have had to rapidly expand access to telemedicine and the banking and financial services, hospitality, grocery, CPG and restaurant sectors have all had to find ways to reach customers thrust into new patterns of consumption. Business models have shifted rapidly while consumer outreach and loyalty programs have had to pivot on a dime—all using technology that didn't exist ten years ago. The response to COVID among consumers and businesses alike has created a new landscape that requires increasing digital focus and investments from every sector. 
Worldwide, online shopping of all kinds has increased dramatically over the past year of grappling with COVID-19 interruptions to the brick-and-mortar marketplace. A report on global trends issued by UNCTAD (United Nations Conference on Trade and Development) summarizes the findings: "The pandemic has accelerated the shift towards a more digital world and triggered changes in online shopping behaviours that are likely to have lasting effects." Domestically, research conducted by McKinsey & Company in June 2020 found that 75 percent of U.S. consumers 18 and over had tried a new shopping behavior such as a different brand, shopping method, new retailer, store or website, and, most importantly for the post-COVID future, between 73 and 80 percent of those consumers reported their intent to continue the behavior beyond the crisis. 
Revamping & Restructuring the Way Work Happens
Talk of the "Fourth Industrial Revolution" has been around for a while now, as artificial intelligence, the Internet of Things, robotics and increasing automation were clearly on the rise in the years running up to the pandemic. But with concerns about worker safety vis-à-vis COVID-19 and pandemic-related factory closures, not to mention new supply-chain and demand pressures, the allure of automation and digital solutions at all levels of industry increased and timetables for shifts toward digital investments accelerated. While some manufacturing jobs amidst ramped-up automation will disappear, demand for highly skilled "smart factory" jobs will only continue to grow.
The increasing need for technical expertise is part of the digital-first shift in nearly all industries. Changes in the way workplaces look and function, with more partially or fully remote workforces, restructured organizational charts and more digitally focused tech jobs, will continue. One study found that work-from-home rates shifted from 15 percent pre-pandemic to 50 percent after COVID-19 appeared. And, Robert Half staffing firm found that 74 percent of telecommuters wish to continue the new arrangement indefinitely. 
Nearly all organizations have likely been forced to rethink the internal adoption of new technologies, new methods, new leadership and team structures. For some companies, the changes brought on by COVID-19 have also meant rapidly expanding previously underdeveloped areas of the business, shifting from B2B to retail, or vice versa. And all of these maneuvers require creating digital outreach and communication with employees, vendors, customers and clients. 
What does this mean for your business?
In addition to increasingly tech-based internal investments, now more than ever businesses must recognize the need to pour time and energy into their brand's online presence and digital outreach efforts. 
Realign and strengthen your brand.


Exploiting new opportunities that have emerged in order to replace revenue streams hurt by the pandemic means an unprecedented time of restructuring and rethinking business focus. Throughout it all, branding and marketing strategies should be driven by research and analysis to assess a completely transformed customer base. These marketing efforts should receive as much attention as rethinking products, services and workplace dynamics. Failure to properly reach audiences in the new, pandemic-altered marketplace could be costly.



Reassess reach and loyalty efforts.


Beyond considerations of outreach, it's important to realize that the concept of consumer loyalty has changed. Customers are more flexible, more likely to try new products having been forced out of their old buying habits and comfort zones. With old loyalty bonds dissolving, customers must be won over and retained anew, and they must be reached in their homes, where they have come to do a larger share of their purchasing.

Revisit UX/UI across all channels.


In short, the arena has changed. With so much of your brand's mid- and post-COVID-19 future riding on your digital presence, you need to make sure your digital channels deliver, with well-thought-out user experiences and engagement and consistent, results-driven branding and messaging across the board. 

Shift marketing budgets to digital media.


Finally, consider that the shifts toward digital habits among consumers translate to a greater emphasis on advertising and engagement through

digital media channels

as the most effective means for reaching customers and clients. As in other areas, the pre-pandemic trend toward digital channels was accelerated by the pandemic. And, just like digital trends in consumer behavior, the move into digital media spending is also not going anywhere now that the market landscape has shifted for good. 
Reach out to Innovative Advertising to provide you with research and analysis to assess your organization's COVID-shifted reality. We can also provide the technical, design and development expertise to help meet other marketing challenges.
Nicole Wetwiski, Director of Digital Marketing
Innovative Advertising is a full-service marketing firm and digital advertising agency located on the Northshore of New Orleans. We partner with B2C, B2B, and non-profits to create completely original design, digital, advertising, public relations, and media solutions. Following a disciplined approach, our team conducts analyses and optimizations of these cross-platform brand development efforts to create sound marketing solutions with demonstrable results.