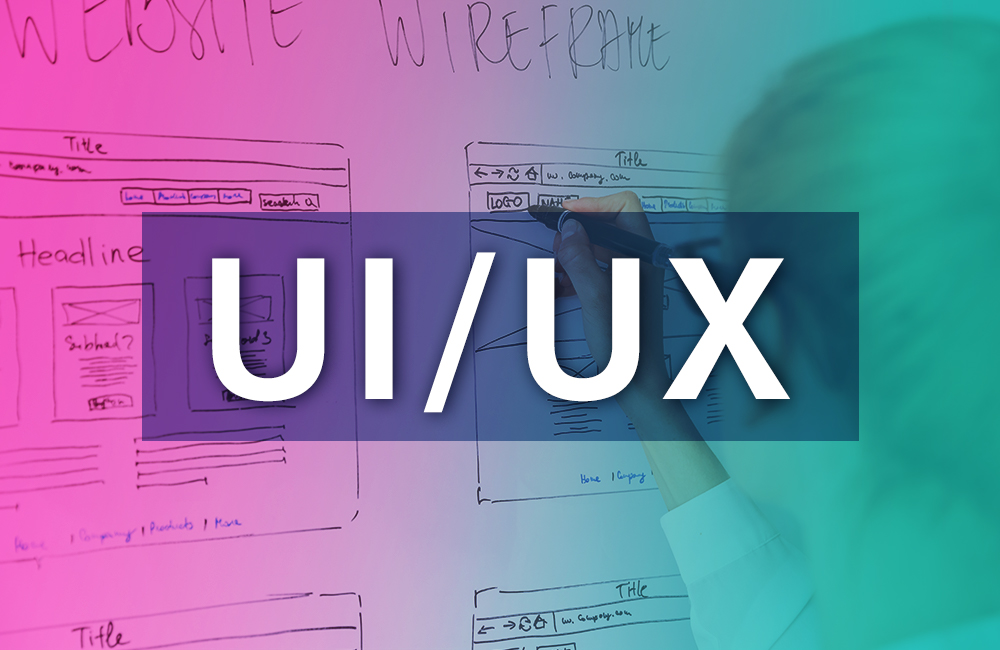 What Is UI/UX and Why Is It So Important?
These two terms and the concepts behind them set the foundation for how customers experience and interact with your organization through your website. UX stands for "User Experience." UI stands for "User Interface." User Experience and User Interface have become vitally important, as more and more brand interactions happen exclusively online or begin with online contact.  
Both UX and UI focus on the USER, aiming to fulfill the user's needs by delivering a seamless experience and a website flow that will maximize conversions. 
The process of building a website is different when taking UX and UI into consideration. Instead of broadly identifying a solution to a need, you need to break it down into user-centric categories.
Persona – whose need are we trying to fulfill? 
Problem/Need – what is the issue we are trying to solve?
Strategy – how will we solve the problem?
Objective – what will the solution achieve?
Features – what features are required to accomplish the objective?
Solution – what will the website look like and how will it function?
Why is UI/UX important? 
Improves the overall user experience, increasing the probability of return/loyal customers

Instills customer confidence in your brand

Creates a positive perception and experience with your brand

Can increase sales
Wireframes
An important step in the UI/UX process is creating wireframes. A website wireframe is like a screen blueprint or page schematic. Through wireframing, we create and identify user flow, determine the navigation structure and outline paths to conversion. As nothing is built yet, we can easily adjust as problems are discovered.
Here is a sample wireframe contrasted with the finished, designed web page that we created for Saved by SPOT.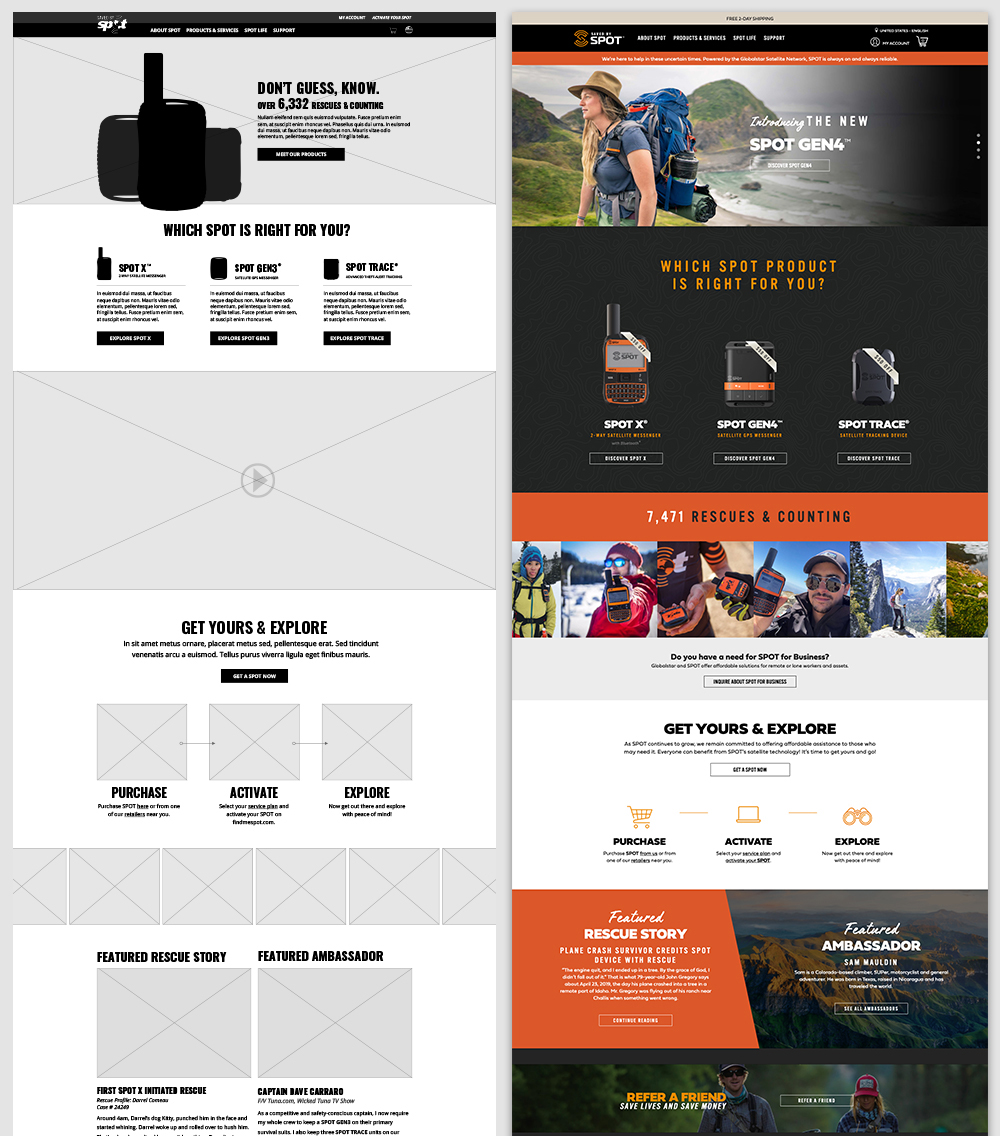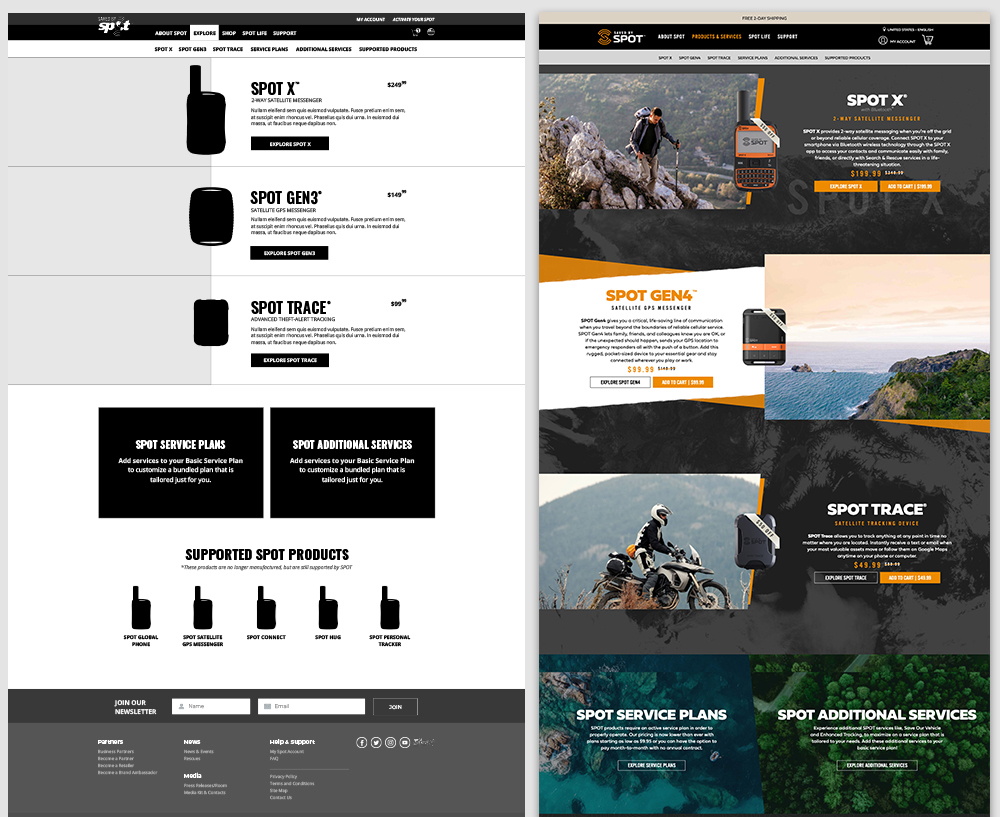 UI/UX Mistakes To Avoid At All Costs
If conversions (sales, form fills, inquiries, etc.) are your goal, here are some design mistakes that can limit your potential:
Relying on too much stock imagery
Even when it's high-quality, it can feel inauthentic and you run the risk of seeing it repeated on other websites. Original content is always preferred.
Overlooking the mobile experience
At least half of all web traffic comes from mobile devices. Don't give half your potential customers a less than optimal experience.
Too many CTAs
When there are too many calls-to-action competing for attention, it causes confusion. Visitors are looking for clear pathways to steer them in the right direction. Too many choices or too many buttons that look alike can hurt your conversions.
Ignoring the User's Goal
Why did they come to your site? How easy is it to accomplish the primary goal? Never lose sight of this important mission.
Failing to balance design with valuable information
The most beautiful site in the world isn't useful if it doesn't help users achieve their goals, or yours. Make sure crucial information is available and easy to access.
Being Inconsistent
Keeping the customer journey consistent is crucial. Make sure the customer feels confident they will get what they expect during every interaction. If shopping and making a purchase is smooth and enjoyable but the check-out experience is difficult, you may lose the sale. Stay consistent all the way through.
Just like in the brick and mortar world, customers/users will support a good product with an outstanding experience over an outstanding product with a bad experience. Looking for UI/UX help for your website? We're waiting to hear from you Innovative Advertising.
Eric Suhre, Web Director
Innovative Advertising is a full-service marketing firm and digital advertising agency located on the Northshore of New Orleans. We partner with B2C, B2B, and non-profits to create completely original design, digital, advertising, public relations, and media solutions. Following a disciplined approach, our team conducts analyses and optimizations of these cross-platform brand development efforts to create sound marketing solutions with demonstrable results.