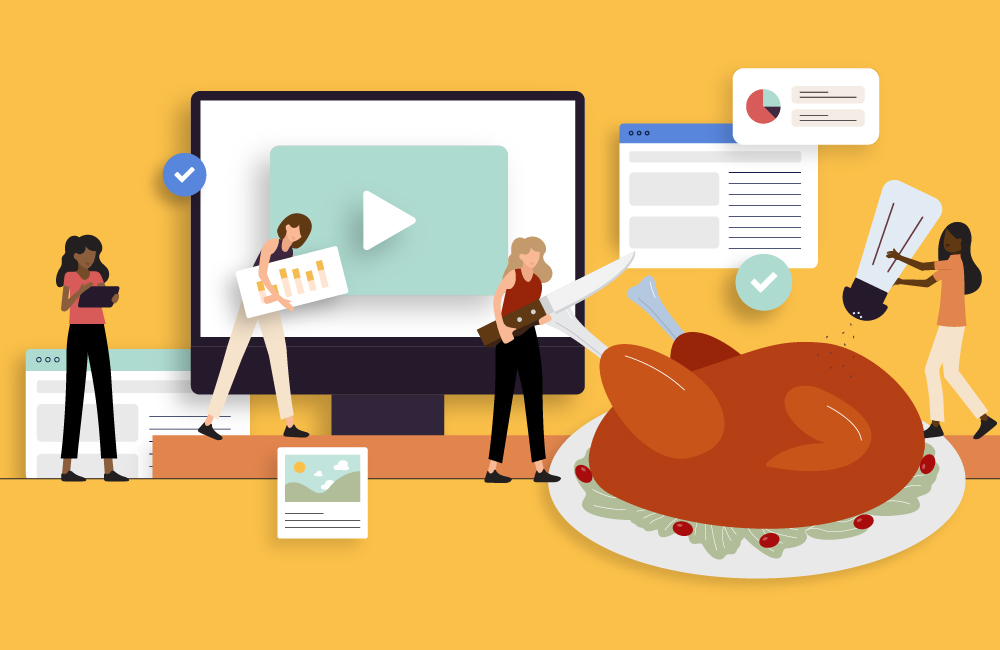 Who wants stuffing?
Before we all gobble down some turkey this Thanksgiving, how about some stuffing? You may not realize it, but as consumers, we are being served tons of "advertisement stuffing" leading up to the holiday season. Studies show that click-through rates during the months of November and December rise to almost 100%. 
Is the bang worth your buck?
Higher consumer spending and increased website visitors mean it isn't surprising for our clients to spend more money on digital advertising to promote their brand at this time. Holiday season is coming up, and it is prime time for companies to be noticed during a time where consumers are spending more. In 2021, U.S. consumers spent a record-breaking 204.5 billion on online purchases over the holiday season.
B2B holiday trends
According to studies from Ascend2, a research-based marketing firm, B2B businesses have also changed the rhythm of their marketing strategies. Embracing digital marketing and moving away from traditional methods means increasing their investment in social media to reach new customers. Since most businesses are planning for the new year around the holidays, it's important for B2B businesses to be visible through the chaos of all of the "advertisement stuffing" happening online. Your messaging should focus on the consumers need or stressor in an emotional way and then offer your service/product as the easily solution to meet that need. Creating this urgency means spending more on advertisements to boost CTRs or click through rates. Personalized emails are also a great way to interact with prospects and existing clients during this special time of year. 
Pre-roll ads are becoming more technological and welcomed
According to OwnerIQ, there are new ways to target consumers based on online behaviors to video ads. In the past, demographics and geotargeting played a major role in how advertisers chose how to purchase pre-roll spots. Now, because of companies like OwnerIQ, relationships between retailers and e-commerce website allows for access to what is relevant to consumer audiences. Recent studies done by IPG Media Lab and YuMe show pre-roll video advertisements are more accepted by consumers as it doesn't tend to disrupt their viewing experience while waiting on their content to play.
Turkey, stuffing, sides and dessert, please
As the digital world of marketing continues to increase in ad spending across all platforms along with B2C and B2B businesses, this might be the year you consider upping the ante in order to win big this holiday season. Insider Intelligence reports that digital ad marketing in the United States will surpass $300 billion by 2025. The more you spend on digital, the more likely you are to be seen. That means you might need a little stuffing with your turkey and don't forget the dessert!
      About Innovative Advertising
Innovative Advertising is a full-service marketing firm and digital advertising agency, with offices in Greater New Orleans and Nashville. We partner with B2C, B2B, and non-profits to create completely original design, digital, advertising, public relations and media solutions. Following a disciplined approach, our team conducts analyses and optimizations of these cross-platform brand development efforts to create sound marketing solutions with demonstrable results.