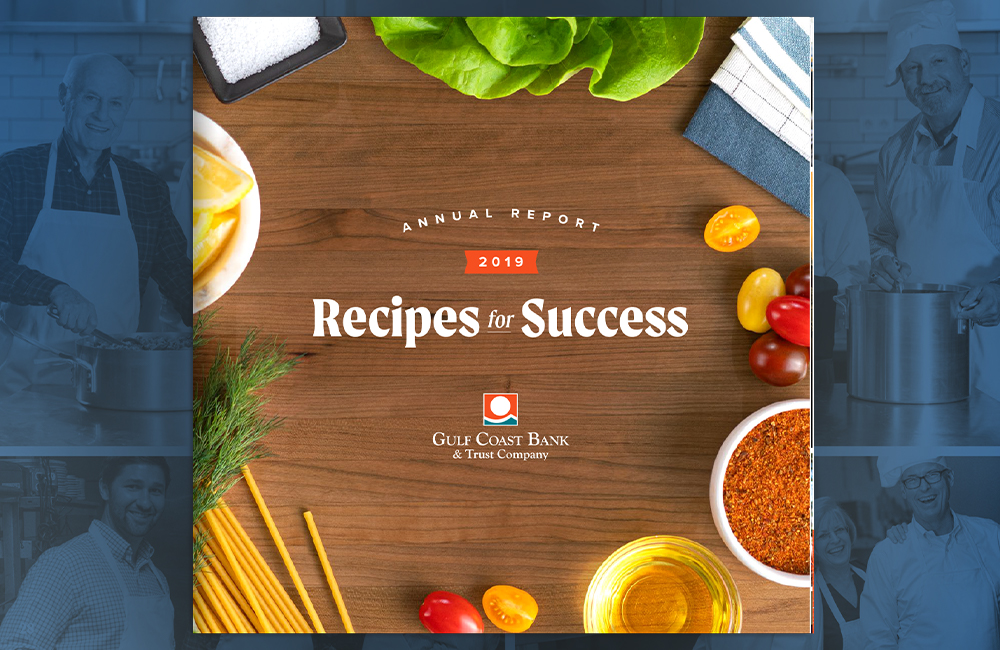 Making Your Annual Report More Palatable
For the past two years, Innovative Advertising (Innovative) has been honored to work with Gulf Coast Bank to create their annual report. Each year the project has an overarching theme that incorporates elements of the Gulf Coast region, showcases clients and highlights the philanthropic work of the bank. 
The Challenge
Gulf Coast Bank and Trust Company asked Innovative to design an annual report that challenged the paradigm of the traditional report. Their goal was a report that was colorful, readable and reflective of their corporate culture. 
A Recipe for Success
The 2019 report theme, "Recipe for Success," focused on the importance of food in the Gulf Coast region. It touched on the right ingredients for a successful client and employee relationships. The report also featured Gulf Coast's ongoing philanthropic support of organizations like Cafe Hope, a culinary arts and life skills program for young people.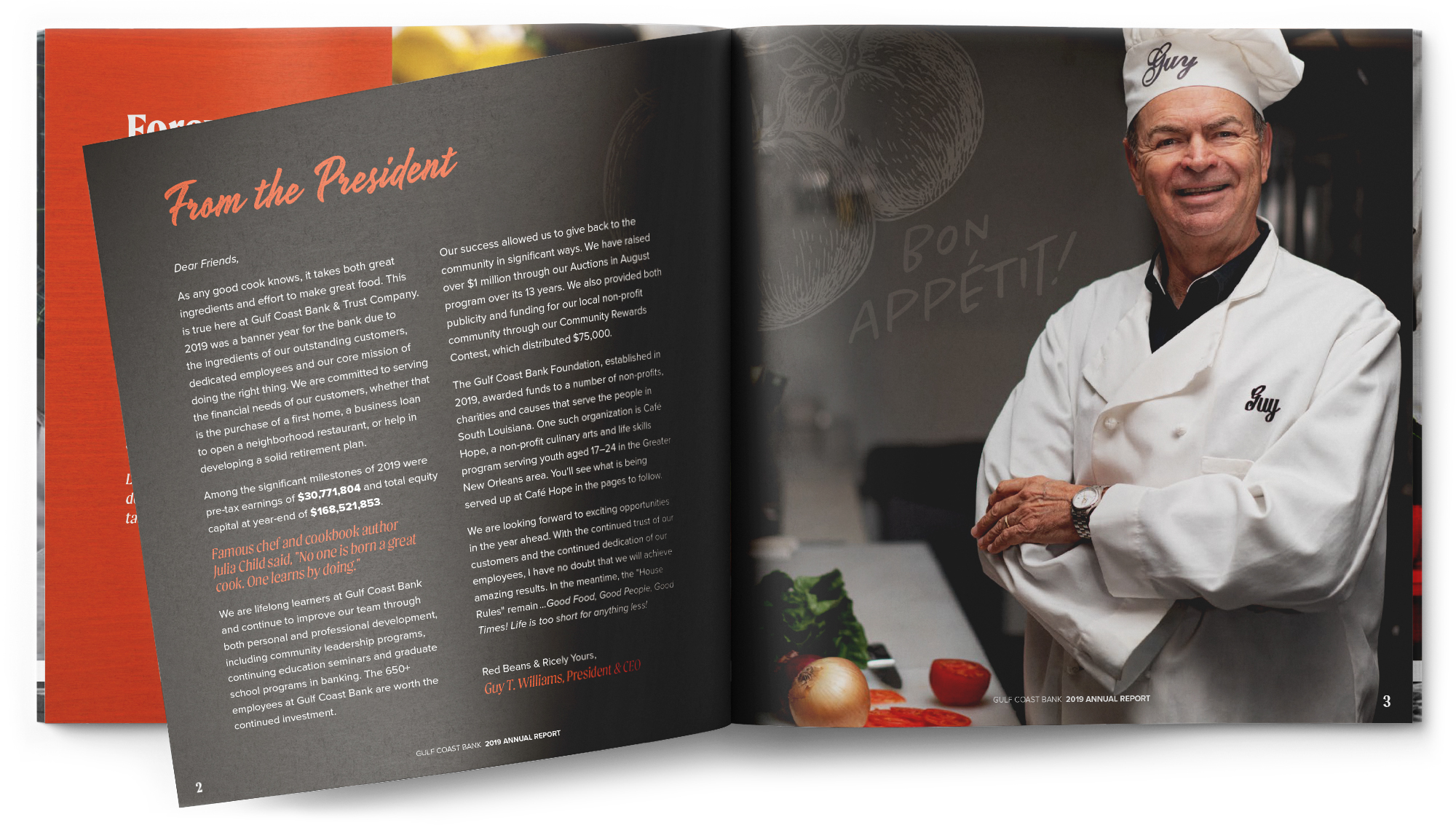 Innovative's Team Approach
Our process began by gathering our creative team to brainstorm concept ideas. Next, we identified a design style and began pulling inspiration for the project. Working in conjunction with the client, we identified partners and organizations to be featured in the 2019 annual report. 
We began the layout process by developing an imposition to organize the arrangement of the document and establish the flow of the various sections. 
The report contains multiple creative sections. Bringing the report together on time, and on budget required a high level of organization from the Innovative team. A photography shot list was developed to detail all the images required to tell the story and support the project theme. Innovative coordinated the photoshoot schedule, as well as set up and conducted interviews of the participants. 
Since the annual report was food-focused, it featured recipes from employees, partners and members of the community. Innovative curated and evaluated all the recipes for accuracy before including them in the report.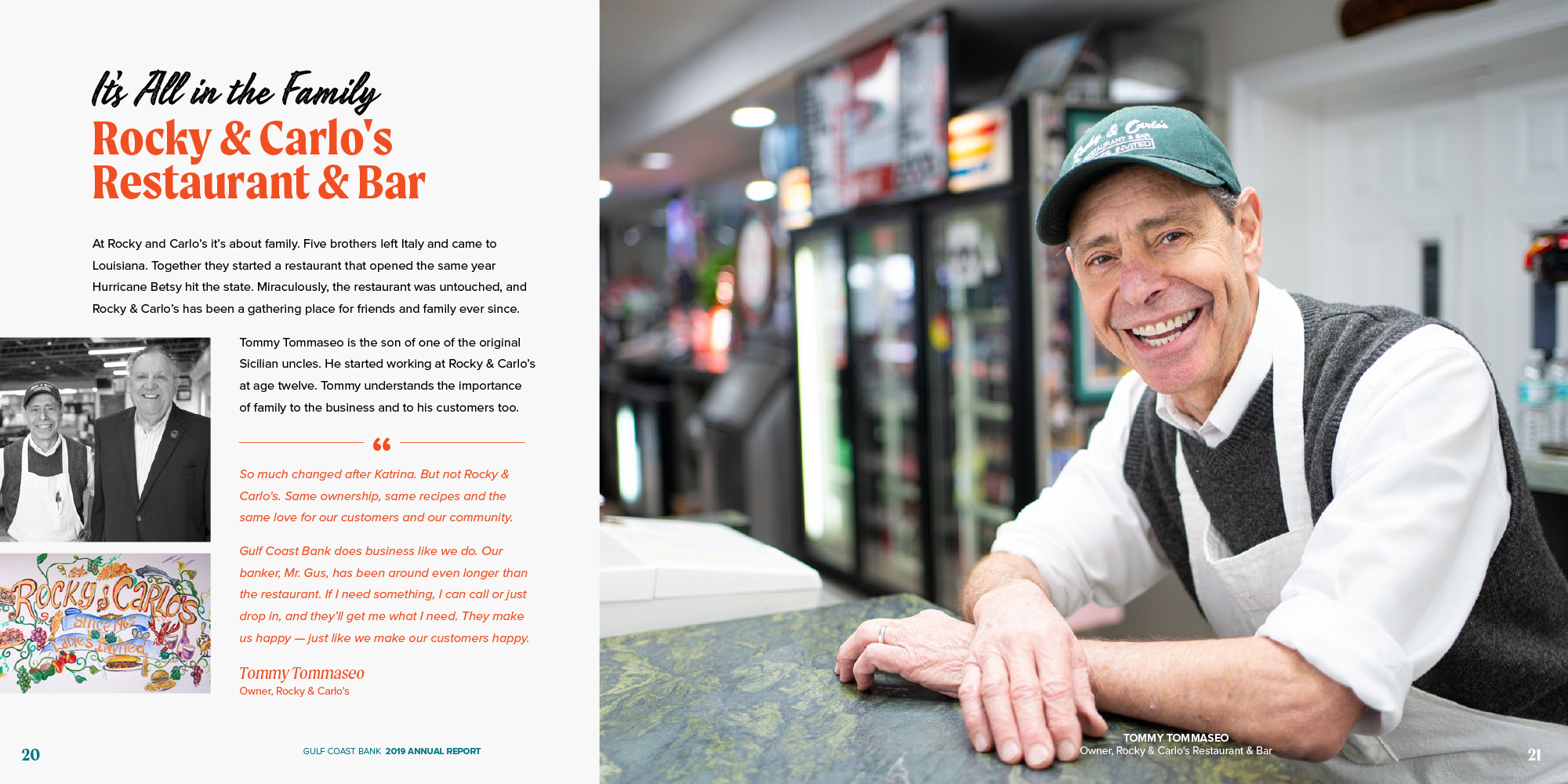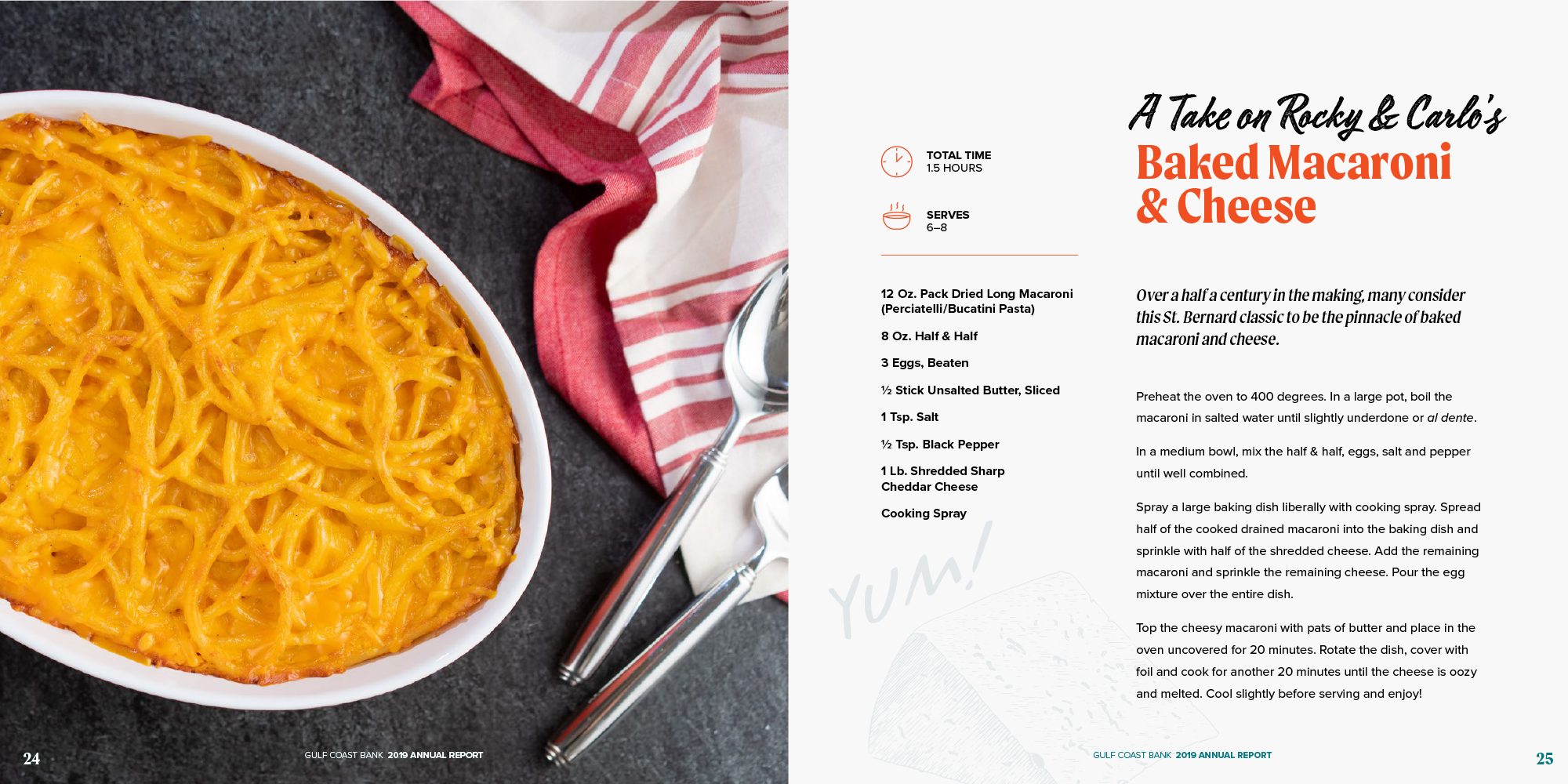 Delivering a Stylish and Delicious Document
Photographing food can be a challenge, but Innovative was up to the task. Our in-house team styled and photographed all the recipes included in the annual report.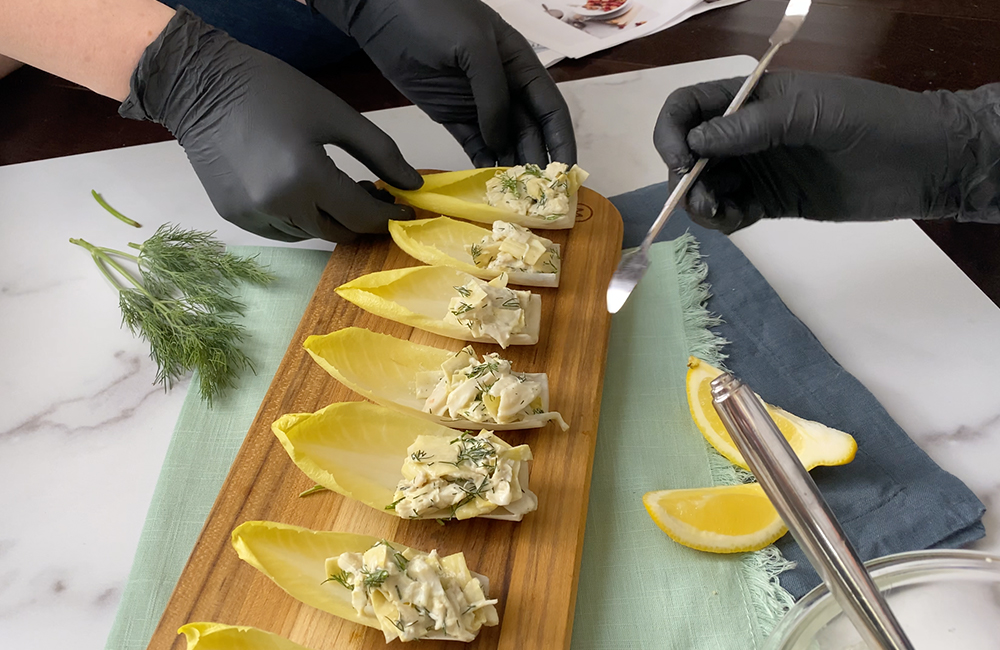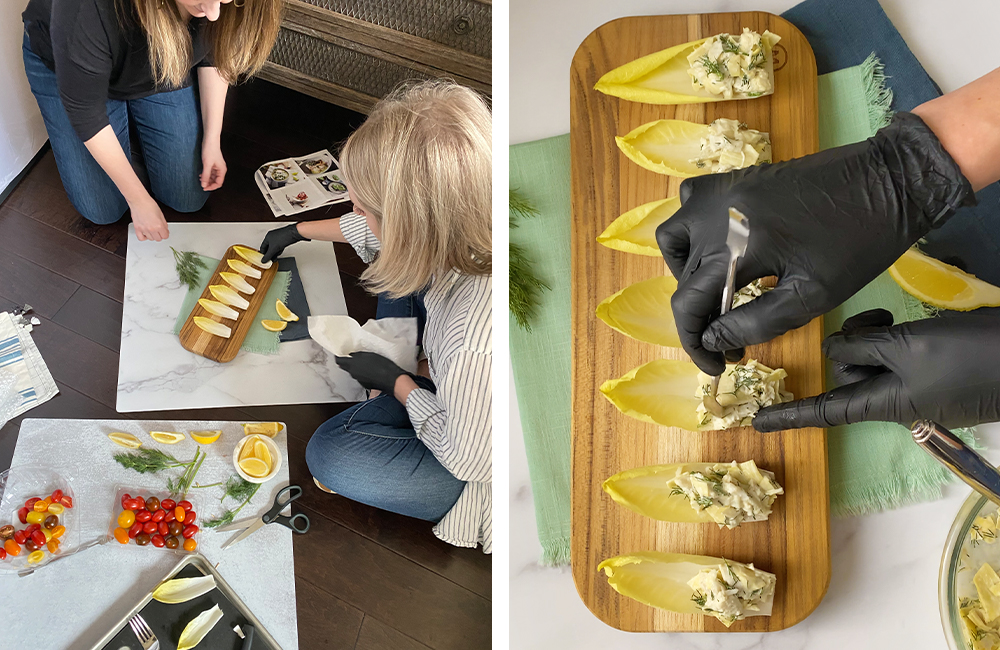 Copywriting and design pulled all the elements together to create a report that was far more than the required facts and figures. In addition to being a beautiful book, the project also included tear-out recipe cards of the featured food items. Innovative's production staff worked closely with the commercial printer to select the right paper stock, binding for the book and to ensure the perforated recipe cards were durable, yet easy to remove. 
As a final touch, Innovative created a digital version of the annual report that can be delivered and shared electronically with stockholders, clients and customers. 
Get a Taste of What Innovative Can Do
Got a project that needs a little extra spice? Innovative Advertising would love to help you with your annual report or corporate communication project.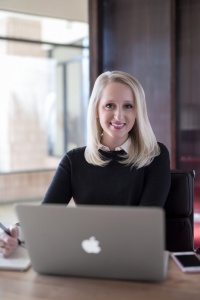 Emily Carlson
Vice President