Build a Personality. The Brand and All the Benefits Will Follow.
Brand identity. Many businesses treat it as little more than an afterthought, but a good identity — with a strong personality that customers love — is the foundation for longterm success. A strong brand will boost customer retention, increase purchase usage and can considerably lower your acquisition costs.
Building the right brand will give you a better internal business culture, as well, helping you grow and thrive with your customers and your team members alike. It is without question the most effective thing you can do to grow your company, so make sure you do it right! You need a brand that fits you and your customers' needs and desires. A brand you'll be proud to represent and to have representing you to engage customers, employees, investors and influencers with a one-of-a-kind experience.
Doing so is a bit easier said than done, but we have a few insights to help you get started.
Start with "Why," Then Fill In the Rest
No great brand or great company was ever created just to sell something. Selling is part of how great businesses achieve their purpose — their why — not the purpose itself. The "why" has to be something deeper. Something that inspires.
Painting With a Twist, which gives friends a chance to get together with a glass of wine and spend an evening learning how to make art, was founded in the wake of Hurricane Katrina. The entrepreneurs behind the wildly successful franchise were looking for a unique fundraising idea — their "why" had less to do with profits, and everything to do with building up communities and adding beauty to the world.
Since its founding, the company has donated millions of dollars to a variety of charities, and is the largest donor to the Vera Bradley Foundation for Breast Cancer. The experience they provide is how they bring people together and raise money for worthy causes, and the profits help keep the charity work — the why — sustainable.
Once you've figured out your why, you can circle back and start putting together other brand attributes. Refine your purpose into a clear, concise statement, then think about how that relates to your customers and their day-to-day lives. What makes your purpose so inspiring? What problem(s) does your purpose set out to solve? What barriers are you clearing out of your customers' way? What improvements are you bringing to the world?
A well-defined "why" will help you answer all of these questions. Those answers will guide you as you build out brand elements and further define your brand.
Brands Aren't Products 
Your brand and your products/services need to go hand in hand, but they're two separate things. Products/services provide tangible benefits that your customers can put to use. Your brand provides an experience that customers can relate to. Brands are about inspiring an emotional response — a response you want associated with your products/services and your company as a whole, and a response that products/services can't create all by themselves.
Essential Federal Credit Union is constantly living up to their motto, "Invested in You," by providing educational seminars on home buying, credit building and other personal finance issues relevant to their market. Actively involved in community outreach, Essential also helps by donating 50 meals to the Baton Rouge Community Food Bank whenever a new member signs up. The community gets the experience of having a trusted financial adviser and partner, not just a bank, and in return, the Essential brand has grown at 4 ½ times the industry average.
Essential Federal Credit Union hasn't built a brand on their products and services, though these are also key factors in their relationships with members. They've built a brand the way all great brands are built: by tapping into their target audiences' thoughts and feelings. Your brand should create meaning in your customers' lives, and provide meaningful experiences in every interaction.
It all goes back to your "why." The inspiring purpose behind your business will be something your customers can relate to. You want your customers to think of that source of inspiration when they encounter your marketing and when they purchase and use your products/services. If you focus on product/service features and benefits you'll never be more than a commodity and that makes you easy to replace.
Keep Your Voice Strong, Singular and Clear 
If you want your brand to consistently inspire compelling thoughts and feelings, you need to recognize each interaction as an opportunity to reinforce your brand. And, interactions happen a lot more frequently than you might think.
You undoubtedly recognize a purchase as an interaction. You know that every time a customer speaks to one of your team members, whether it's in person, on the phone, via email, or through another medium, an important interaction is taking place. But do you have a full understanding of each of your marketing interactions and how they affect your brand's image and your customers' attitudes?
Every time your customers learn something about you, see an image of your products/services or catch a glimpse of your logo, they're having an interaction with your brand. Every time they pass your storefront or see one of your ads on a website, they'll have an emotional reaction. If you want to set the terms of that interaction and reinforce the brand personality you've carefully built, you need to maintain a strong and consistent voice across every interaction and customer touchpoint. You need a voice that sets you apart from the competition and makes you compelling and instantly recognizable.
Abita Brewing Company is very Louisiana-centric. Despite the intense competition in the crowded craft beer space, they remain one of the top 25 craft brewing companies in the US. Abita has developed a strong, singular and standout voice with colorful packaging that evokes the culture, history and colors of New Orleans. Theirs is a brand that speaks directly and clearly to their target market, and their "Louisiana True" identity has made them a strong seller across the nation.
With a brand that helps you stand out, is recognizable and consistent across all touchpoints and channels, you'll build long, gratifying relationships with your clients that will sustain and grow your business, too.
Putting Your Brand Together
Rooting your brand and company in a strong purpose, connecting emotionally with your customers and developing a strong and consistent voice will help your brand stay ahead. Continue to build your brand out with engaging advertising, ongoing product development and excellent service, and you've got a brand built for the ages.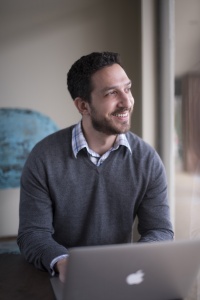 Jeremy Ballard
Director of Design