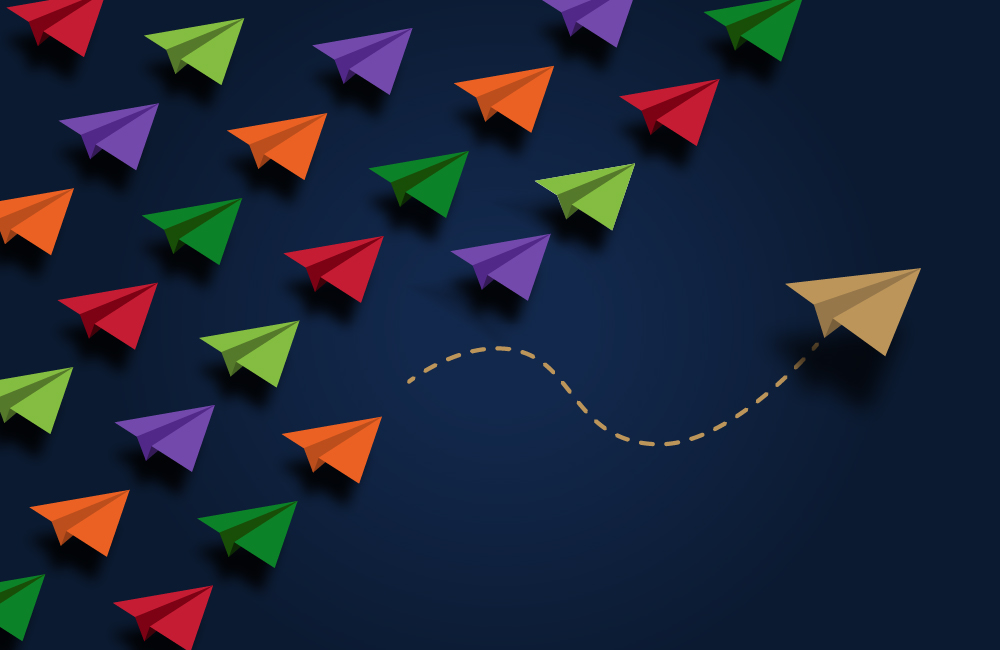 5 WAYS YOUR ONLINE ADVERTISING CAN BREAK THROUGH HOLIDAY CLUTTER
According to the National Retail Federation (NRF), last year's total holiday season sales were 14.1% more than 2020, which set a new spending record of $886.7 billion, the most money ever spent despite of the challenges posed from inflation and supply chain issues. The NRF also saw that almost 50% of consumers started their holiday shopping earlier than usual because of the concern of slower shipping times.
Here are 5 things to keep in mind when creating your holiday ads and content:
1. Be Relevant
The holiday season is filled with opportunities. It's a time for cheer and celebration as we round out the year, and it's important to work this into your messaging.
Not only should your advertising content be creative and holiday-centric, but you need to relate to your customer's interests and needs. The holidays are about warmth, joy, cheer, empathy and appreciation, so your messaging should emote those feelings to create a human connection with your audience.
Work with what the holiday season brings and be relevant in spreading holiday cheer.
2. Be Positive
People are more likely to spend when they are happy. Use the positive spirit of the holidays as inspiration on how to structure your advertising and message.
By putting people in a good mood, what you're also doing is making a lasting impression on the customer. According to a study from Harvard Business Review, good moods can create a positive attitude towards your brand, and build a long lasting relationship with your customers. The study demonstrates that brands who market to millennials, in particular, have a better chance at winning them as customers if their messaging can maximize an emotional connection. Tugging on heart strings can help capture your audience ensuring your brand is remembered in the future. In addition, consumers in good moods will be more receptive to new products and be more likely to take risks in making purchases, and some even buy more impulsively. 
3. Be Discoverable
Now, more than ever, is the time to be as discoverable as possible. Analyze your target audience, and make sure to be timely when pushing out holiday content.
Being discovered by your audience first is the difference between you getting the sale as opposed to a competitor, so being present and searchable is a priority. Seasonal Search Engine Marketing (SEM) can be a key player in helping customers discover your business. Expanding your overall SEM efforts to include seasonally-relevant keywords and audiences is the first place to start. Also consider adding Google campaigns to increase your ad performance with the addition of extensions such as site links and structured snippets. Don't forget to monitor your SEM closely throughout the holiday season and optimize your buy to garner the best return on investment (ROI). 
4. Be Memorable
You can push content out in many ways, but make sure it's not just a sales pitch. You want to be remembered, as not every consumer is ready to spend at that moment. Creativity needs to be at its peak if you want to stand out during the holiday season.
Take risks with your advertising and don't stick to a cookie-cutter approach. Consider using newer formats of marketing in order to tell a deeper story. Utilizing social media platforms such as Instagram reels could boost your visibility and help break through some of the holiday clutter. Streaming services will no doubt be a major platform for businesses to promote their holiday specials as Disney+ is rolling out a lower-cost package in December to consumers that will include advertisements, or OTT, as well as the continued preroll ads HBO Max has been serving viewers. Ad-free viewing at a low price may be something of the past for consumers, but in turn, it is a good thing for those wanting to promote their brands. 
5. Be Simple
What speaks to the consumer? What we found is that simplicity is the best strategy to pique customer interest for your product. With advertising being oversaturated during this time, a customer is more likely to remember the simple yet creative ad, instead of the ad that is too convoluted or too long to garner their attention.
With our attention spans being around 8 seconds nowadays, simplicity speaks volumes. If you're able to convey your message quickly, the customer will be able to easily digest what they're seeing/hearing, and you will have successfully made an impact on their decision.
Innovative Advertising is a full-service marketing firm and digital advertising agency located on the Northshore of New Orleans. We partner with B2C, B2B, and non-profits to create completely original design, digital, advertising, public relations, and media solutions. Following a disciplined approach, our team conducts analyses and optimizations of these cross-platform brand development efforts to create sound marketing solutions with demonstrable results.