Rock & Roll Hall of Fame
Objective
The Rock & Roll Hall of Fame sought to drum up national exposure through media coverage of the museum as Cleveland, Ohio hosted the 2016 Republican National Committee Convention (RNC).
Challenge
Garnering media attention during a highly competitive, news centric event.
Protect brand identity by ensuring coverage and efforts were non-partisan.
Showcasing the museum as contemporary, yet politically-relevant.
Increasing regional and local visitors and encourage return visits.
Solution
Developed an online press management system for the Rock Hall to deal with thousands of incoming media opportunities and serve as an information hub on all things rock & roll.
Reporters and producers were able to digitally request media credentials, book interview opportunities with Rock Hall spokespersons and reserve on-site reporting locations during the week of the RNC. The site also housed press kits, suggested story ideas, images, b-roll and other assets for reporter use, in addition to an online contact form and the latest updates from the museum.
While the front-end of the site catered to media usage, the back end of the site provided the Rock Hall with:
Database management to store, edit, populate and query collected media contacts

A digital pitching platform

Sophisticated email tracking and analytics for automated pitching and outreach

Online credentialing to approve media and track requests

Automated interview scheduling to optimize location space, prohibit conflicts and manage commitments
Services Used
Communications Database, Content Creation, Website Development, Advanced Technological Solution and Public Relations
Result
1,200 credentialed media utilized the site and visited the Rock Hall during the RNC, generating nearly 10,000 stories. Publicity increased 577 percent over the previous year and airtime mentioning the Rock Hall totaled 38 hours and 47 minutes.
The estimated reach of the stories produced was 14,940,318,445, earning a publicity value equating to 306 times the project investment.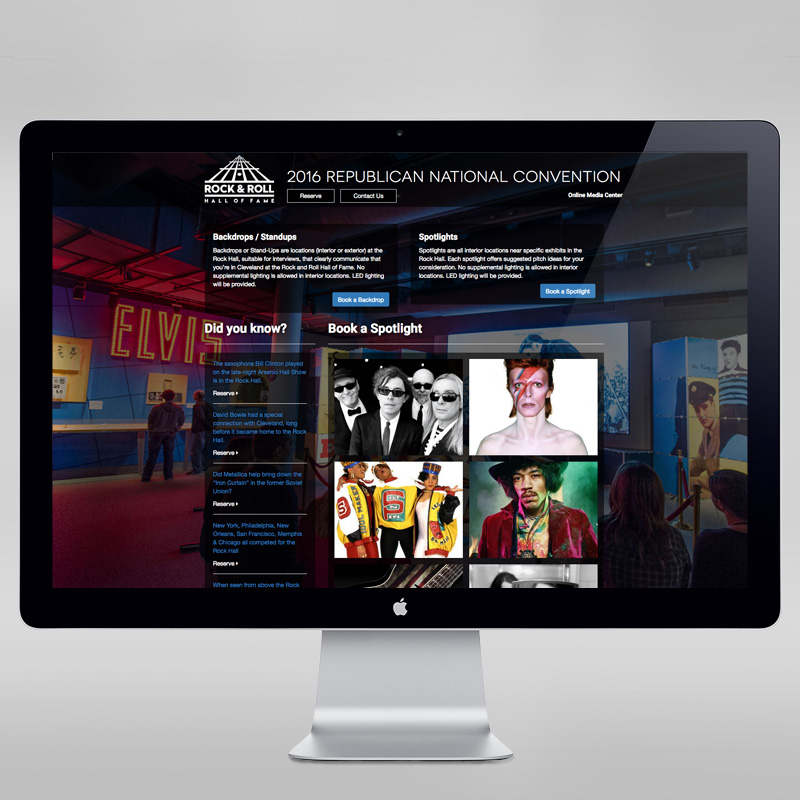 Media Management Microsite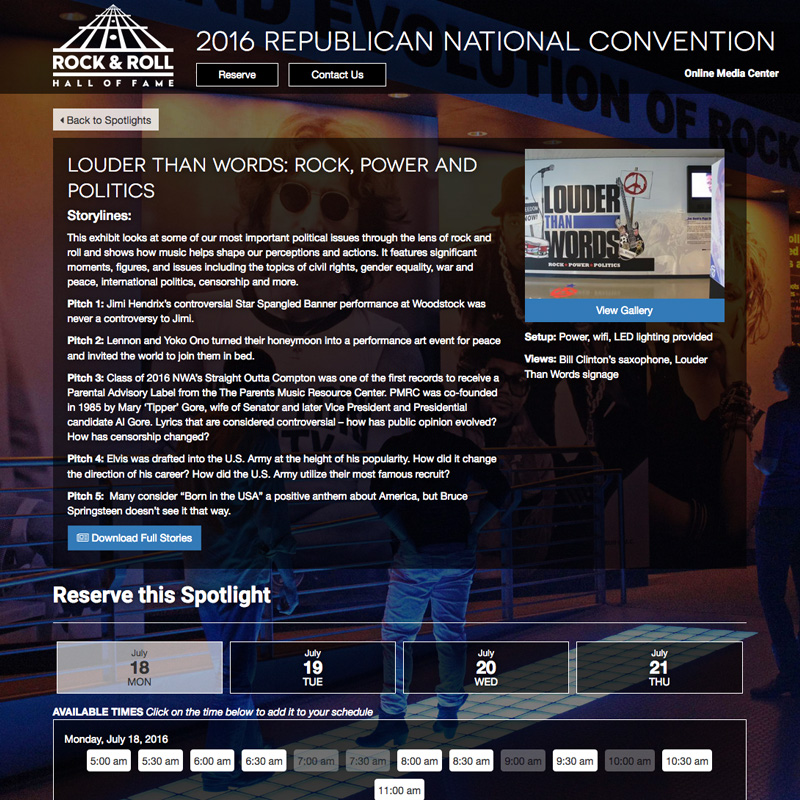 Story Ideas & Online Scheduling