Interactive Tourism
Objective
Like many visitor centers around the country, Houma, Louisiana collected visitor information the old fashioned way — with pen and paper. There was nothing motivating or exciting about the process. As a result, many travelers did not take the time to sign in. So, there was no record of their visit, who they were, where they lived or why they came to visit Houma.
That all changed during the development of a new visitors center. The Houma Area Convention & Visitors Bureau (HACVB) believed the center would draw larger crowds due to increased square footage and a wide array of engaging displays on the local environment, culture, history and industry. They wanted a way to record as many visits as possible, particularly since becoming known as an international travel destination. 
Goals
Enhance the guest experience
Increase visitor guest book sign-ins
Capture visitor demographics, travel information and comments
Challenge
Create an interactive guest book that grabs attention, encourages engagement and is easy and fun for all ages.
Solution
After researching options, Innovative Advertising (Innovative) recommended developing an interactive guest book kiosk with the same look and design Innovative created for Houma's custom website and geocaching microsite.
The Interactive kiosk allows:
HACVB to:
Capture visitor information, including zip code, reason for visit and length of stay
Develop a database of visitor insights that could be utilized to effectively target and market Houma, LA through multiple channels, such as email, social media and direct mail
Visitors to:
Create a memory by taking a photo framed within a unique border reflective of Houma's landscape
Share their trip with family and friends through an automated email postcard
Share and view guestbook entries with other Houma, LA visitors
View a global map pinpointing the country of each participating traveler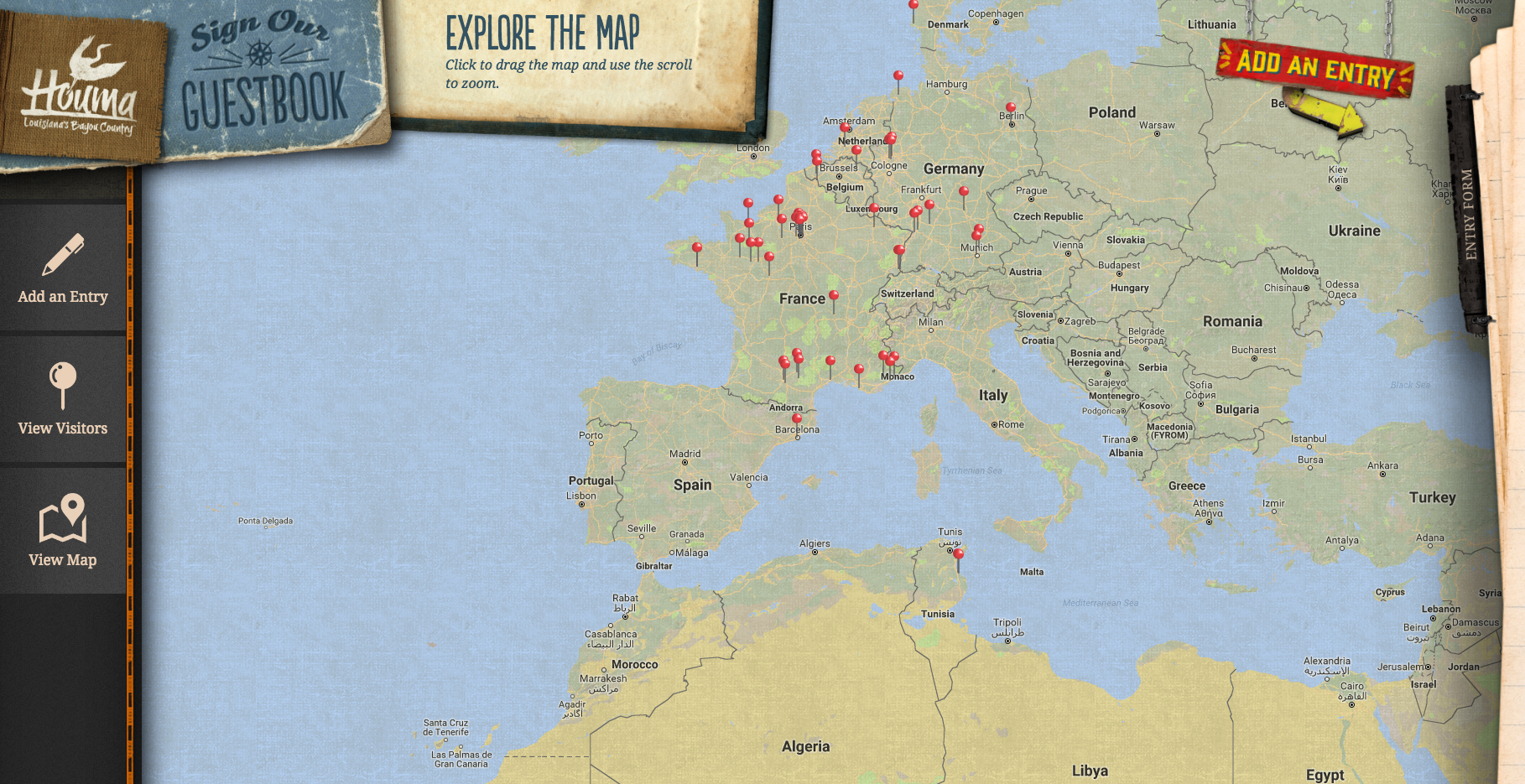 Result
The guest book kiosk system was unveiled at the July grand opening of the new Houma Area Convention Visitors Bureau. The guest book provides the HACVB with ongoing, live visitor data, allowing them to not only understand who is coming to Houma, but also discern the travel pathway. To date, Houma has recorded tourist visits from almost 20 countries.